WeeRide SAFEFRONT detská sedačka na bicykel
Detská predná sedačka na bicykel WeeRide je víťazným návrhom vytvoreným pre vyšší štandard na bezpečnosť a pohodu jazdca a dieťaťa. Umožní Vám a Vášmu dieťaťu prežiť spoločné chvíle pohody počas jazdy a to vďaka lepšiemu pocitu kontroly nad bicyklom a interakcie s dieťaťom.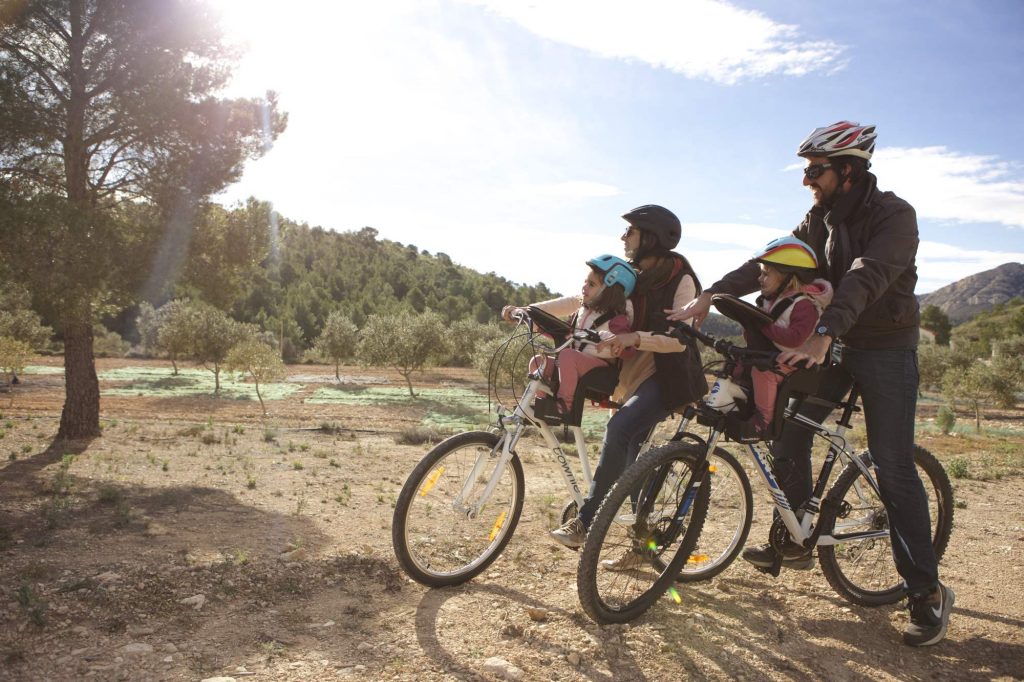 Ťažiskové rozloženie váhy - lepšia stabilita pre jazdca.
Najlepšia distribúcia váhy - do stredu bicykla.
Unikátny dizajn s predným pultíkom pre najvyšší komfort dieťaťa (opierka na ruky, hlavu, či pripnutie obľúbenej hračky, alebo fľaše pomocou Velcro zipsu.
Plnohodnotná 100% interakcia rodiča s dieťaťom.
5-bodové bezpečnostný systém popruhov.
Výškovo nastaviteľné opierky chodidiel s ochrannou páskou.
Hmotnosť sedačky 2,6 Kg
EU norma EN 14344 2004.
Vyrobené v EU.
| | |
| --- | --- |
| Predné sedačky na bicykel | Zadné sedačky na bicykel |
| Aktívne zapájanie sa dieťaťa pri jazde | Znížená vzájomná interakcia - pasívne sedenie |
|  Distribúcia váhy do stredu bicykla | Nevyvážené rozloženie váhy dieťaťa |
|  Vhodné pre plne odpružené MTB bicykle | Vhodné len pre hard tail MTB bicykle |
|  Nerušená viditeľnosť pred seba | Pohľad na chrbát jazdca/rodiča |
|  100% interakcia s dieťaťom |  Obmedzená schopnosť rozprávať s dieťaťom |
---
Dôležité: Ak je rám Vášho bicykla v hlavovej časti pod riadidlami príliš široký a neumožňuje montáž nosnej konzoly cyklosedačky priamo na rám, máte možnosť dokúpiť si STEM adaptér (pozri príslušenstvo), ktorý nahrádza vymedzovaciu podložku pod predstavcom riadidiel a umožní bezproblémovú montáž sedačky. Adaptér je kompatibilný s 99% bicyklov na trhu a nájdete ho na odkaze nižšie.
---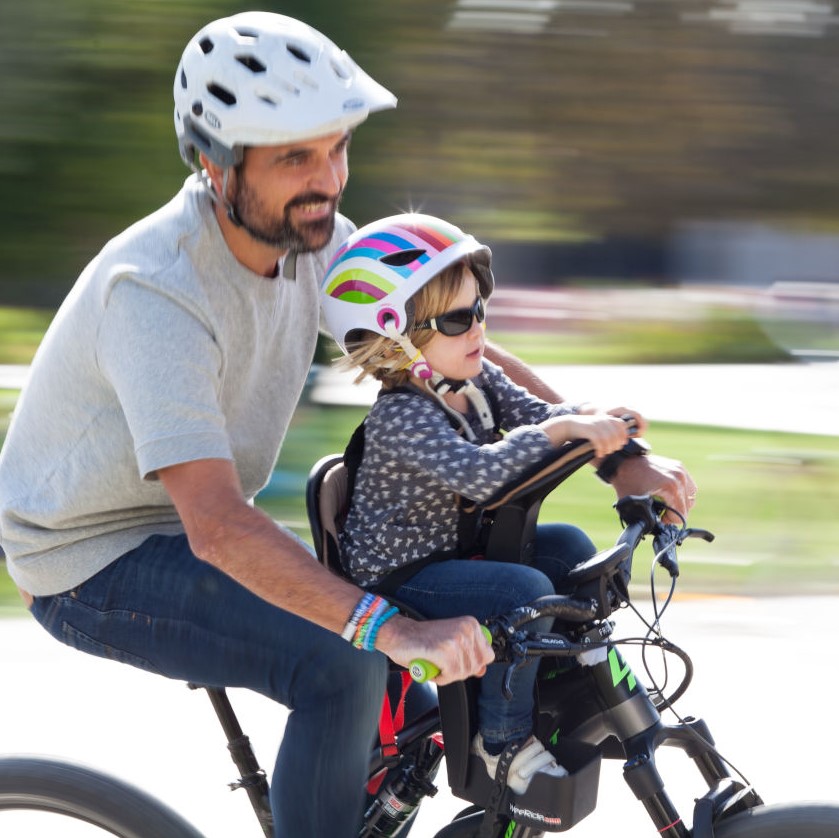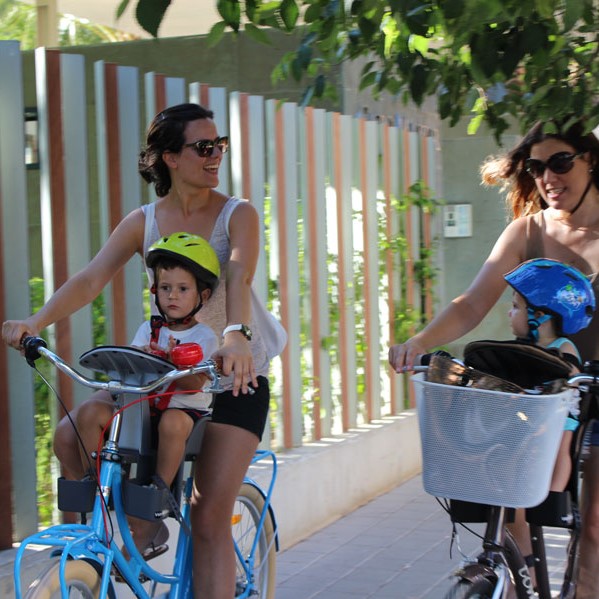 Koniec hľadeniu na chrbát.
Detská sedačka na bicykel WeeRide SafeFront je vhodná na väčšinu bicyklov a pripevní sa k nezávisle namontovanej nosnej konzole.
Nosná konzola je súčasťou balenia a montuje sa na prednú časť rámu pod riadidlami a zadnú sedlovú tyč bicykla.
Konzolu nie je potrebné odmontovať, ak jazdíte bez detskej sedačky.
Sedačka sa pripevní na nosnú konzolu ručnou skrutkou s detskou poistkou.
Oproti iným sedačkám, ktoré sa montujú na predný rám pod riadidlá, ocení jazdec jedinečné rozloženie váhy dieťaťa "do ťažiska" bicykla, čo napomáha stabilite a umožní ďaleko lepšie manévrovanie aj na nerovnom teréne.
To všetko za neustálej vzájomnej interakcie medzi jazdcom - rodičom a dieťaťom - absolútny zážitok z jazdy.
Vyššia bezpečnosť ako pri sedačkách dozadu, pri ktorých na dieťa nevidíte a nedokážete reagovať, či inštinktívne ochrániť pažami v prípade problémov.
Sedačka je navrhnutá pre deti vo veku od 9 mesiacov do 4 rokov, a vážiace do 15 kg, pričom je vždy dôležité, že dieťa pred jazdou v sedačke je dostatočne vyvinuté v oblasti krku a hlavy, resp. že dokáže sedieť samostatne zo vzpriamenou hlavou.
Nosnosť 15 kg je daná EU normou pre túto kategóriu produktov, vo všeobecnosti je však dieťa po prvom roku života fyzicky aktívnejšie a na hmotnosti naberá v ďalšom období oveľa pomalšie, ako počas prvého roku života. 
Sedačka je unikátna dizajnom a vhodná aj pre plne odpružené horské a treking bicykle.
Mierne rozšírené nohy jazdca počas jazdy vôbec nie sú problém, ako sa môže javiť na prvý pohľad. Ak aj to jazdec na začiatku pocíti, veľmi rýchlo si zvykne.
Výhod pre jazdca a dieťa je oproti zadným sedačkám na bicykel o mnoho viac.
Ak máte akékoľvek nejasnosti, pýtajte sa - aj sto krát. Vieme, že každí, kto si výberom detskej sedačky na bicykel už prešiel vie, že nie je ľahké sa rozhodnúť.
Produktové video.
Reviews
No customer reviews for the moment.
You're reviewing "WeeRide SAFEFRONT detská sedačka na bicykel"