TOWBOX V1 box na ťažné zariadenie
TOWBOX V1 je unikátne multifunkčné riešenie ako zväčšiť objem batožinového priestoru Vášho vozidla a praktická alternatíva k strešným boxom, ktorá poskytuje užívateľovi viacero výhod. Okrem rýchlej montáže nedochádza k veternému odporu a navyšovaniu spotreby, či rušivým vonkajším zvukom.
Autoboxy TOWBOX na ťažné zariadenie.
Objem 290 Litrov.
Nosnosť do 50 Kg (konzultujte max. zvislú záťaž vlečného zariadenia).
Hmotnosť 26 Kg.
Rozmery 108,5 x 58,5 x 57 cm.
Vysúvací a sklápateľný mechanizmus - 3 pozície.
Uzamknutie veka + uzamknutie k ťažnému zariadeniu.
Elektrická inštalácia (13 pin) vrátane 13/7 adaptéra.
EU Homologácia.
Vyrobené v EÚ.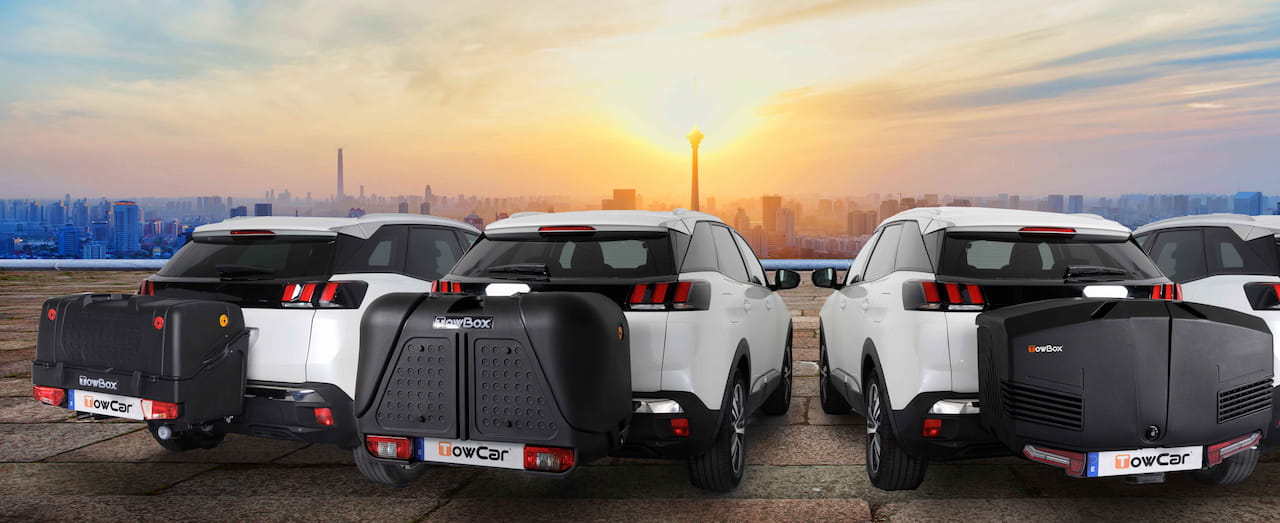 EMÓCIA Z NEPOZNANÉHO
Autoboxy na ťažné zariadenie nie sú až tak neznáme, a to predovšetkým v západnej Európe, kde je táto možnosť prevozu batožiny a zvierat veľmi populárna. S rastúcim trendom a počtom väčších rodinných áut aj na našich cestách je prirodzené, že ich majitelia hľadajú spôsob rozšírenia kapacity batožinového priestoru, či spôsob prevozu ich štvornohých rodinných príslušníkov. Ako alternatíva k strešnému boxu sa preto autoboxy zn. TowBox stávajú pre užívateľa oveľa praktickejším riešením.

Komfortný prístup k batožine.
Nepotrebuje zápis do TP vozidla.

Jazda bez navýšenie spotreby.
Bez rušivých aerodynamických zvukov.

Praktická alternatíva k strešným boxom, ktorá poskytuje viacero výhod.
Rýchla a pohodlná montáž na ťažnú guľu a poloha boxu v závetrí auta, kde nedochádza k aerodynamickému odporu a navyšovaniu spotreby auta, ani rušivým zvukom.
Otvárateľné vrchné veko úložného boxu Vám umožnia ľahký prístup k batožine.
Sklápacie a výškovo nastaviteľné manévrovacie kolieska.
Plne sklápací a vysúvací mechanizmus umožní bezproblémový prístup do kufra auta.
2 zámky s kľúčom na vekách.
Zámok proti odcudzeniu na ťažnom zariadení.
Pripravený na použitie hneď po rozbalení.
Neobmedzuje Vašu rýchlosť jazdy, či spotrebu.
Vyrobený z Polyetylénu strednej hustoty, materiálu odolnému proti nárazom, škrabancom i korózii.
Spätné - cúvacie svetlá a svetlá do hmly sú súčasťou prídavného osvetlenia.
Maximálna nosnosť v závislosti od modelu až do 50 Kg (Konzultujte limit maximálneho zvislého zaťaženia pre Vaše ťažné zariadenie, ktorého hodnotu nájdete uvedenú v technickom preukaze vozidla).
Bez potreby vykonania zápisu, alebo nahlásenia do technického preukazu vozidla.

EU Homologácia.
Zariadenie je homologované ako plne nezávislý doplnok k motorovému vozidlu a preto nie je potrebný zápis do TP vozidla. Výhod v porovnaní so strešným boxom je viac. V zásade sa však jedná o ponúkaný komfort, a to či už sa jedná o ľahký prístup k batožine, alebo viac kultivovanú jazdu bez rušivých zvukov zvonku. Poloha boxu v závetrí idúceho vozidla neovplyvňuje spotrebu vozidla, čo asi ocení každý vodič, najviac však určite dovolenkári na dlhších trasách. Všestrannosť využitia Towboxu je naozaj veľká a obe ponúkané verzie ponúkajú záujemcovi neobmedzené možnosti využitia a to všetko v štýlovom estetickom prevedení.
Reviews
No customer reviews for the moment.
You're reviewing "TOWBOX V1 box na ťažné zariadenie"